Disclosure: This post or page may contain some affiliate links, meaning if you click on a link and make a purchase from an affiliate site, I make a small percentage of commission from that purchase, at no cost to you. Please read my Disclaimers for more information.
The need to save money on your heating is real. Winter can be a time of extra financial pressure with darker days and nights seeing us putting the lights (and the kettle) on more often. Electricity and heating costs can be significantly more during the winter months, and that is without the added pressure of the current economic and political situation seeing prices of electricity and fuel skyrocketing. These tough months can see your bank balance disappearing and can cause significant worry.
This post is my guide (lots of it from personal experience) on frugal ways to keep warm in your house this winter. I hope you will find some helpful hints and tips on how to keep your house warm on a budget. Most of these tips are for pre-emergencies. Fuel poverty is real and increasing, so there are also links to organisations that can provide support through tough times. Please do not stay silent out of shame or fear. (I have used one of the organisations I will mention later in this post, during a very difficult period). Lets get started with some tips to stay warm and safe this winter and save money on your heating.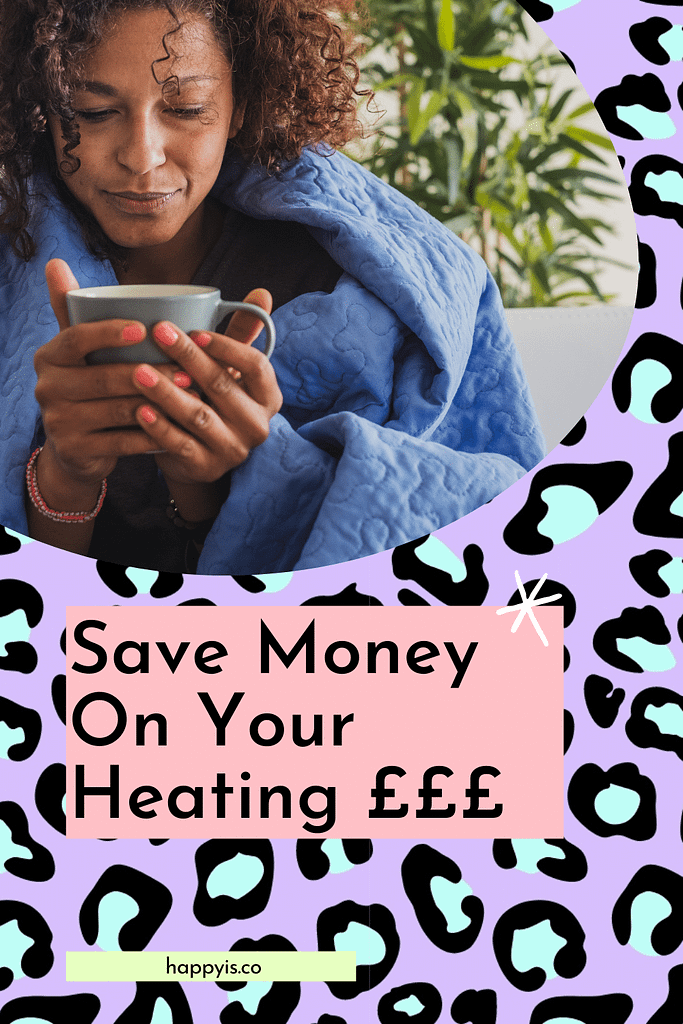 Stay Warm At Home This Winter
To keep your house warm on a budget can be difficult, so here are some simple tips to keep warm and safe this winter (and save money on your heating).
Bedroom Heating Hacks
Staying warm at night in cold weather can be difficult but there are a lot of ways to get cosy for a good nights sleep. Here are my top tips to stay warm this winter in your bedroom:
1/. Hot Water Bottles: These cosy little gems are my absolute favourite tools for staying warm during the night. Plus, now you can get long ones that you can really snuggle! Make a few hot water bottles an hour before going to bed and pop them in there so it's nice and warm when you get into bed. I would always make at least one new one right before going to bed too for an extra boost of heat. Make sure you don't overfill them or use boiling water – always follow the instructions!
2/. Electric Blankets: Electric blankets are a cheap and easy way to stay warm when you are sleeping and save money on your heating. If you don't want to or can't afford to heat your bedroom, this is a good way to get some extra warmth to make sleep that bit more comfortable. Don't use hot water bottles with electric blankets – that's majorly dangerous! And be sure to turn that electric blanket off before you fall asleep.
3/. Wheat Bags: Wheat bags are a great alternative to hot water bottles (but there's nothing stopping you from using them together, plus you could use wheat bags with your electric blanket much more safely). You pop these into the microwave for a few seconds, and they come out toasty warm. I pop a lavender scented one around my shoulders and neck in bed helping me to feel relaxed and cosy!
4/. Duvets: Use a winter duvet! These are heavy 13.5 tog duvets. Alternatively, combine two duvets together in your duvet cover if you happen to have an extra one in your cupboard.
5/. Flannel Sheets: My great grandmother always had flannel bed sheets and they were so warm! This material is so soft on your skin and it really does stay warm through the night.
6/. Throws: Extra blankets, throws, or even dressing gowns and coats can add great insulation whilst you are sleeping, helping you to stay warm during the night. Your bedroom temperature will drop at night time so the more layers you can sleep under the better.
7/. Pyjamas and Socks: Like I said, layers are key so pyjamas and socks are another great way to boost those layers that will keep you warm. Fluffy socks and fleecy pyjamas will feel soft and cosy, but any pyjamas or clothes that are comfortable enough for you to sleep in are perfect. Thermal leggings and vests are also great options.
8/. Thermostat Check: If you can heat your bedroom with central heating, try to heat it to between 16-18° Celsius. This is a good temperature that will keep you warm, but ensure you still save money on your heating.
Stop Losing Heat Through Your Windows
Focusing on the places where we can lose and obtain heat from is a great way to save money on your heating and stay warm in winter. Let's start with windows:
1/. Curtains Open: When the sun is out, open your curtains, especially in the rooms that get the sun well. This will warm the rooms a little. Don't believe me, have you ever stood barefoot in a spot where the sun is on the floor? Notice how warm your toes are? 🙂
2/. Curtains Closed: Before the sun sets, make sure to close the curtains so you don't lose any of the heat you have captured during the day. Insulated curtains are best for keeping heat in, but you can also add thermal lining to existing curtains for reasonable prices (even cheaper if you can sew them yourself).
3/. Windows Sealed: If you have older or draughty windows, then a plastic insulation shrink kit is a great and cheap way to lessen the amount of heat escaping through those windows and the amount of cold air blowing in through them. These kits are very simple to install and all you need is a hair dryer and some patience. This will keep you warm in winter (and all year round) but it will also help you to save money on your heating! Win win.
4/. Lock Them: Locking windows makes sure they are entirely closed. This will limit the heat allowed to escape and the cold air allowed to enter.
Stay Warm In Your Living Room
The living room is likely to be your most used room in winter, so this room is definitely a priority to keep warm. If you have a fireplace, then I highly recommend making full use of it if you can. There are plenty of frugal ways to get fuel for the fire and it's often much easier to budget to buy a bag of coal than a full tank of heating oil.
In our old house, we had an open fire with a back boiler and it rescued us during a very hard winter when we couldn't afford much heating oil. Please don't forget to have your chimney cleaned before lighting and use a fireguard for sparks. If you don't have a fire in the living room, then here are some tips on how to stay warm and save money on your heating this winter:
1/. Rugs: Rugs and mats on the floor will keep your feet warm and also act as a little insulation. If you can't afford a rug, you might find some free carpet remnants online on sites like Gumtree and Facebook Marketplace.
2/. Put Your Feet Up: Try not to keep you feet sitting on a cold floor, even if it is carpeted. Try to put your feet up and remember your socks!
3/. Throws: Blankets, throws and even your duvet are encouraged in the living room. How decadent does it feel to snuggle up under a cosy duvet on the sofa?! Well, this can be a great way to keep warm, save money on your heating and give your mood a boost. Pop on a movie or read a book and stay cosy. (If you aren't watching tv, put on the fireplace from Netflix or YouTube to add to the cosiness).
4/. Furniture Layout: If you have the space, try to keep sofas and chairs away from external walls, windows and in front of radiators. This will keep you away from any draughts and chills, and allow heating to circulate more easily around the room.
5/. Thermostat Check: If you can turn on the heating, then I recommend prioritising your living room and aiming for a temperature of 21° Celsius or above. If you will be out for most of the day, have your living room heating switch on an hour before you are due to get home so you feel the benefit of it when you return.
6/. Hot Water Bottles: These aren't only for bed! I regularly grab a hot water bottle for the sofa (and my office chair). You can also make one for your feet to keep yourself really snug.
7/. Wheat Bags: These are great for around the shoulders and neck like I mentioned for bed, but you could also heat one for your lower back and even to set your hands on. These are quick and easy to heat up and stay warm for several hours. If you are feeling the temperature drop in the living room, grabbing these before adjusting the thermostat will save money on your heating at home.
8/. Electric Over Blankets: Did you know you can get electric blankets to put over you instead of under?! These are a revelation and a great way to get a good boost of heat if you are feeling really chilly. Plus, they don't cost too much to run. Get one that has a timer so it will switch off, and always buy these new. Let's stay warm and safe this winter.
9/. Snuggles: If you live with other people who would be happy to snuggle up on the sofa with you, then do it! Or if you have any pets, bring them up into your cosy blanket fort. You will keep each other warm by sharing your body heat. What a lovely way to save money on your heating.
Use Your Kitchen to Save Money on Your Heating
The kitchen has some great opportunities to get some additional heat into your home and into yourself! If you can't afford to heat your entire home, then I would recommend turning off the kitchen radiator. Here are some tips to keep your house warm on a budget using your kitchen:
1/. Heat Creation: If you have an oven, a dishwasher or a tumble drier, leave these open after using them. The residual heat will warm the kitchen up and save you money on your heating. Just be careful if you have any pets (especially curious cats) or little humans who like to explore and might get hurt.
2/. Kitchen Sink: When you are washing dishes in the sink (which can often be cheaper than running a dishwasher cycle), don't drain the hot water. Leave it in the sink and it will warm the room. Drain it once it has cooled down.
3/. Warm (& cheap) Meals: Soups, stews and casseroles are the pinnacle of comfort food for cold weather! Simmering a pot on the stove or using a slow-cooker will give a little heat to the kitchen, and the smell will boost your mood. A hot bowl of soup can be a cheap, vitamin-packed and warming meal. Perfect way to stay warm and cosy at home this winter.
(Bonus tip: Bulk cooking and freezing portions of these will make meals even cheaper, and means you don't have to spend a lot of time in a cold kitchen doing cooking. What could be nicer than knowing you can have a warm meal ready in just a few minutes?)
4/. Hot Drinks: A hot mug of hot chocolate or a cup of tea is a simple way to warm yourself up. There are so many options: tea, coffee, hot chocolate, warm apple cider, broth, warm milk, hot water and ginger or lemon, Horlicks, Ovaltine, elderberry or blackcurrant cordial. Holding a warm mug will ease those cold fingers but another way to save even more money on bills is to buy a thermal mug. That way your drink will stay warmer for longer and you won't have to use as much electricity to boil water or heat milk.
(Bonus tip: Boil more water or heat more milk when making your first drink, and fill a flask with the leftover amounts. It's more economical and stops you having to spend too much time in colder rooms in your house).
5/. Carb It Up: Eating regular carbs will help your body to stay warm, as your body can get energy from carbs more quickly than from protein. Add some pasta, potatoes or rice into your soups and stews for an easy carb boost. Porridge is a great meal that will warm your cockles (as my granny would say) and is easy on the pocket.
6/. Clothes Drying: Drying clothes in winter can be difficult, especially if you are trying to reduce your heating bill and you don't have a tumble dryer. One item that has been invaluable to me is a heated clothes horse. Mine costs almost nothing to run and it does heat up my kitchen when I am using it. Just be careful about damp (although a little humidity is good and can make it feel warmer).
Use Your Bathroom
1/. Hot Baths or Showers: Taking a hot bath or shower is a great way to warm up and boost your mood. If you have some nice smellies to use, then winter is certainly the time to use them to help keep your chin up. But the main priority is to warm yourself up quickly.
Plan for getting out by putting your towels and pyjamas on a radiator or wrapping them around a hot water bottle. If you are getting into bed or going to the living room afterwards, then plan for that by making hot water bottles and your warm drink. This way you will get the benefit of the heat from the bath or shower for longer. If you wash your hair, blow dry it before sitting down or going to bed.
2/. Don't Throw Out The Bath Water: After a hot bath, leave the water in the bath tub. It will heat the bathroom and increase the humidity so it won't feel ice cold when you need to pop to the toilet for the rest of the day. Drain it when it is cold and be careful if you have pets or little humans who might want to explore and splash.
Doors and Draughts
We have already talked about windows, but doors can be draughty too! Here are some cheap and easy ways to save money on your heating focusing on doors and draughts:
1/. Close Them: Closing doors is a simple but effective way to save money on home heating. Obviously, close external doors, but also doors to conservatories, porches, built-in wardrobes, cupboards, and doors to rooms inside.
2/. Lock Up: Remember to lock those outside doors to close them fully and minimise draughts. If you have a door with a key hole that has a noticeable draught, you can get keyhole covers or pop a piece of tape over the keyhole when you are inside the house. Similarly, if the weather is windy, tape down your letterbox.
3/. Edges: For external doors, try to insulate around the edges. You can get self-adhesive foam which acts as a seal in the gaps between the door and the door frame. This can also be great for internal doors. Another tip to minimise cold air coming in from outside is to hang a blanket or a door curtain at external doors. A good, heavy curtain or blanket can really help to keep the heat in. Make a draught excluder for the bottoms of doors with a rolled up towel or blanket.
4/. Garages: If you have a garage attached to your house, keep the outside door closed as much as possible. The internal door joining your garage and home should be kept closed and locked to stop heat escaping.
5/. Room In Use: Be sure to close the door to the room you are in and use a draught excluder for the bottom of the door to keep the heat in. This is particularly helpful in the living room (and bedroom if you are able to heat it).
Cosy Clothes To Stay Warm At Home
Wrapping up warm is natural in winter when we are going outside, but there are easy ways to wrap up at home that will help you to stay warm this winter:
1/. Layers: Wearing layers at home is one of the simplest ways to keep warm. Think vests, tights under trousers, jumpers, hoodies and dressing gowns. If you start to feel a chill coming on, layer it up to warm up.
2/. Socks and Slippers: Don't forget to wear warm socks at all times. Slippers will help keep your feet warm when you are walking around the house, particularly if you have non-carpeted floors, or are going to rooms such as the bathroom or kitchen which you may not be heating.
3/. Hats, Scarves and Gloves: It might sound strange to some to consider wearing a hat, scarf and gloves at home, but your warmth is the most important thing. If you are cold, do what you need to. Sleeping with a hat on can keep you nice and cosy, especially if you can't heat your bedroom.
4/. Coats: Don't be afraid to wear a coat or dressing gown as an extra layer, especially in colder rooms.
5/. Fleeces: Fleeces are a great layer, but there are also fleece pyjamas, fleece leggings, fleece hats, and more. Fleece is an excellent insulator and these items can often be found in discount stores.
Get Moving For Warmth
Your blood sometimes needs a little shake up to get it flowing to help you to feel warmer. Doing this can stop you reaching for the thermostat so soon and help you to save money on your heating.
1/. Move It: Sometimes it can be helpful to move around a little if it is possible. Even a few minutes doing some cleaning can be helpful for warming you up. A well-wrapped up walk outside also works wonders. If you are on a very tight budget, cutting outgoings such as the gym can be helpful and you could swap this for a workout at home. However, being able to visit a gym can also offer an opportunity for some extra warmth and a hot shower (which you might be minimising at home) so you need to weigh up the pros and cons for your own situation.
Save Money On Your Heating Bills
There are lots of ways to stay warm at home this winter, but being able to save money on your heating is also vital, even if you are only able to heat one or two rooms. Here are some tips on how to save money on your heating bills:
1/. Take Control of the Thermostat: Trying to keep a steady temperature throughout the day is the best way to handle cold weather, but this may not be possible with your budget. Following some of the tips above will help, but focusing on your thermostat will really reduce your bills. If you are able to heat your whole house, then aim for a temperature of 21° Celsius in the living room, 18° Celsius in your bedroom, and 16° Celsius in the rest of your home. If you can only heat select rooms, then choose the living room and bedroom. Make sure to set a timer so you are warm when you wake up and at bedtime in particular.
2/. Electric Heaters: These can be very expensive on the electric but if you need to prioritise either electricity or heating then they might be a viable option. They are helpful if you plan on only heating one room. Do not leave any heaters unattended or on for long periods of time and if possible, choose one with a timer.
3/. Fresh Air: Opening your windows during winter might sound counterintuitive, but you need air to circulate around your home to prevent damp and to maintain your health. Open windows for a few hours during the day but make sure to close windows as the night air draws in, especially your bedroom window.
4/. Candles: This might sound bonkers, but candles do add a little heat into the rooms you are burning them in. Plus, they feel cosy on dark evenings, and might save you a few pennies on electricity costs. However, please make sure to use these safely. Do not leave them unattended at any time. Blow them out before you go to sleep. Make sure your fire alarms are working.
5/. Insulation: This may not be an option for everyone, particularly those who are in rented or temporary accommodation. However, if it is possible, then it can make a significant difference to the cost of heating your home. If you have an attic that is not insulated, then you will be losing a significant amount of heat. Insulation can really save money on your heating.
6/. Maintenance: Your boiler requires regular servicing and if you are living in a rental property, this will usually be the responsibility of your landlord/housing association/council. If it hasn't been serviced recently, then put in a call and ask them to service it. It may help save some pennies if your system is running more efficiently.
If you notice that some of your radiators aren't heating as well as others, or are cold at the top or bottom, then you may need your heating system flushed or radiators bled. Bleeding radiators yourself is quite an easy job if you have a radiator key, but if you are a tenant then put in a maintenance call.
7/. Zone Heating: This is one of the biggest ways to save money on your heating. Choose which rooms you will heat to reduce expense. If your home is open plan, you can utilise curtains on tension rods to separate the room into sections and heat chosen sections accordingly. The idea is to only heat rooms you are in for significant periods of time.
Going to bed earlier is a good way to save money on your heating as you can turn off heating in the living room. Why not get snuggled up in bed with a book or some Netflix, and of course your hot water bottles and blankets.
If you can't afford to heat both your bedroom and living room, then prioritise the room you can sleep in. If your sofa is comfortable, then set up the living room as a bedroom. Sleep on the sofa with your duvet, blankets, and throws. If your bed is more comfortable, then set up your bedroom as a living room and only use that space. The less space you are using, the more you can save money on your heating.
8/. Go Out: Other places have heating. If you are struggling and need to limit the hours you are using the heating at home, plan a visit to some friends or family for a coffee. Libraries are another great free space in your local community where you can visit without obligation to spend anything. They might even allow you to drink from your thermal mug in certain spaces. If not, bring it with you and pop outside to drink it.
9/. Radiator Reflection: If you have any radiators on external walls, then you can put cardboard with aluminium foil glued to it behind the radiator, ideally as close to the wall as possible. This will reflect heat back into the room. You can also purchase reflective insulation for behind radiators.
10/. Financial Support: There are options for financial support for some people who are struggling with heating. Don't miss out on these, and please take what you are entitled to. There is no shame in receiving assistance to stay warm in your own home. Visit Citizens Advice for more details.
11/. Drastic Action: The most frugal way to save money on your heating is to not use it at all. Some won't have a choice and won't be able to afford it. Others may choose to wait as long as possible before turning the heating on. However, if you are in either of these situations because you are facing financial difficulties or concerns, please revisit the financial support point above, and also continue reading for suggestions of support in crisis. Having your heating off for long periods of time in cold weather increases the risks of burst pipes.
What To Do In A Crisis
Please do not suffer in silence! Contact Citizens Advice, local charities such as Age UK/ Age NI or St Vincent De Paul, your local council and your energy supplier for assistance.
A final word…
Please be a good neighbour and friend. Check that people you know or live close to have heating, electricity and enough food, particularly if there is a very cold spell forecast or occurring. If you are in a position to offer assistance with shopping, collecting prescriptions, walking pets, talking out bins or dropping over some warm meals then please do it. If you are worried about someone, please contact a support service like your local council or a charity (e.g. Age UK/ Age NI for elderly people).
Save Money On Your Heating – Have You Any Other Suggestions?
Do you have any winter rituals you do to stay warm and save money on your heating? Will you try any of these tips and hints?
---
If you are interested in learning more about earning an income online, check out these posts: