Disclosure: This post or page may contain some affiliate links, meaning if you click on a link and make a purchase from an affiliate site, I make a small percentage of commission from that purchase, at no cost to you. Please read my Disclaimers for more information.
Self care should be prioritised every single day, and even more when we are feeling low or stressed. However, we have fallen into a trap of what we define as self care, and quite often it can come with expense. But what about the times when we can't go to the spa? What if we can't afford to attend yoga classes, or don't have the time available? Or maybe we need some self care after a very hard day? Finding cheap or free ways to look after ourselves is vital! You are important, and you deserve to prioritise yourself and your own needs. It is not selfish to take some time for yourself and dedicate some energy to looking after your mind and body. So here are my favourite 25 inexpensive or free self care ideas to take great care of yourself today and every day.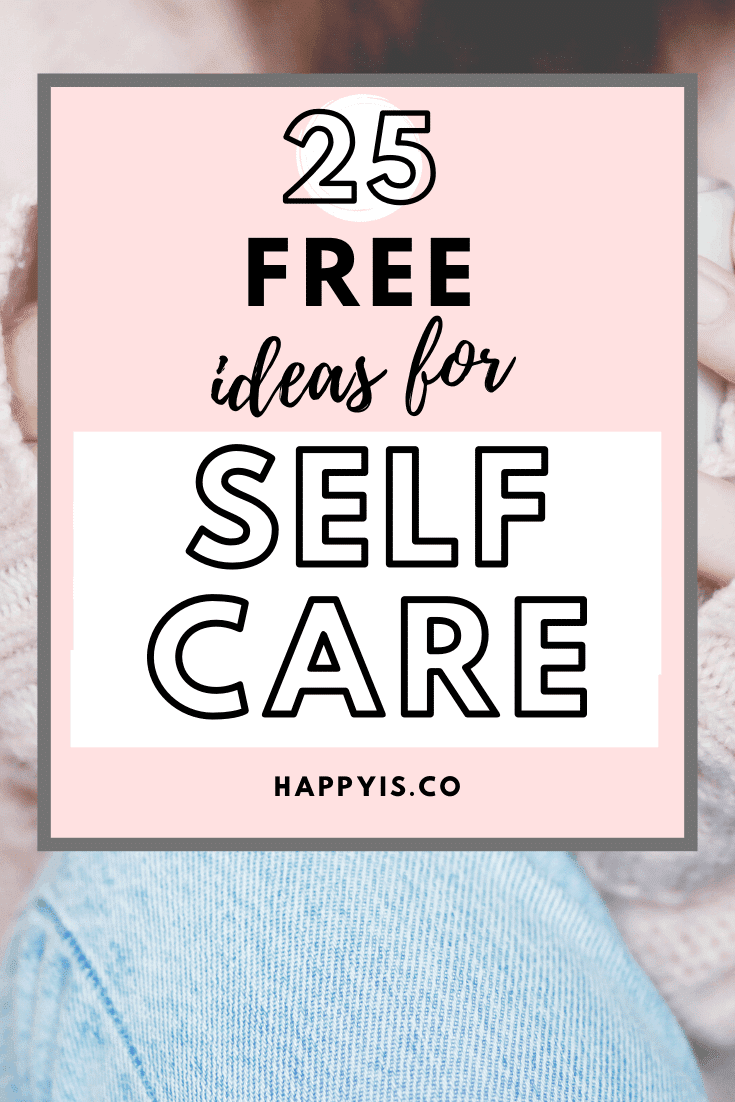 Related posts:
25 Inexpensive & Free Self Care Ideas:
Take a nap.
I am a huge fan of the power of sleep. It can transform a bad mood, ease upset and help you to press the reset button for your mind and body.
Try journalling.
Journalling doesn't need to cost anything. We all have bits of paper and random pens dotted around our houses. Or you could try journalling electronically. This is a way of expressing your thoughts and processing your emotions. You could write freely and independently or follow some prompts.
Go for a walk.
Nature is powerful and impactful on our mood and wellbeing. It can be transformational, even just by spending a very short time in nature. If you can't face going out, then why not sit beside an open window or stand for a few minutes in your garden.
Take a shower.
Showers are my favourite thing to do when I need to process my thoughts or get some clarity. Even a few minutes under the shower has a way of making us feel refreshed and renewed. (I am not a fan of baths, but relaxing and resting in a bath is another great way to take good care of yourself. But remember it is the ACT of having the bath, not the paraphernalia that goes with it. Self-care is not about bath bombs. You can still look after yourself without all of that. Those are extras or nice-to-haves.
Be still and do nothing.
Our days and our lives are so full. We are running from place to place, jumping from task to task without taking any breaks or giving ourselves space and time to just be still. Try taking 5 minutes to do absolutely nothing. It works. Trust me.
Change your sheets.
This is the most powerful piece of advice that I have ever shared and I will continue to do share it until everyone realises that putting on clean bed sheets is one of the most important acts of self care imaginable. Even if you are in the throes of depression, barely able to get out of bed, clean sheets is one small act of kindness and love towards yourself and it is worth the struggle. I promise.
Put your phone onto airplane mode.
A great way to get a break from the endless notifications and communications that can be stressful and that take up so much of our time and head space.
Write a list.
Lists are amazing. Why not write a list of things you have achieved? Or things you love about yourself? A gratitude list can sometimes give us a boost to our mood. I like to write to-do lists and goals lists because planning makes me feel great and it helps to focus my mind on the now and the possibilities of the future.
Go on a virtual trip.
Google Arts & Culture have virtual tours of museums, galleries and even national parks for you to enjoy from home. A perfect way to get your culture or nature on when you need some joy.
Write some affirmations.
Affirmations are a great way to create positive thoughts about yourself and your life. Write some self-appreciation and remind yourself of how amazing you truly are.
Create a mindful routine for bedtime.
Design a routine for your evening that puts your needs at the centre and supports you to have a peaceful and rejuvenating rest.
Practice abdominal breathing.
Abdominal breathing is the most important breath for meditation and yoga. Practising it for a few minutes every day can reduce anxiety. Give it a try and connect with your inner self.
Throw yourself a kitchen disco.
Make yourself a Spotify playlist of your favourite tunes and get your dance on! LET YOURSELF GO!
Clear out your email.
It might sound mundane, but the freedom that comes with having an empty inbox is indescribable. I promise it is worth it and it is free self care.
Tidy up.
Choose an area or a room and tidy it up. Don't get too bogged down in the details, just restore your space to a calm and serene environment.
Get up to watch the sunrise.
There is something deeply uplifting about watching the sun rise and brighten a new day. And that view costs nothing – completely free self care!
Read a chapter of a book.
Delving into the pages of another word or focusing on a topic that you want to learn more about is a great way to take your mind off of your worries and anxieties. Reading can be therapeutic and a great way to slow down.
Call a friend.
Speaking to a friend or family member who you haven't spoken to in a while or who always cheers you up is one of the greatest ways to give your mood a boost.
Put on fresh clothes or pyjamas.
Getting changed into clean clothes or pyjamas can lift our mood and make us feel a little fresher. Even if you are getting right back into bed or heading back to the blanket on the sofa, this is one of the easiest ways to practice free self care.
Do some yoga.
YouTube has an abundance of yoga sessions that you can easily do at home. I highly recommend the wonderful Yoga With Adriene.
Snuggle up under a blanket.
This is my ultimate tip for free self care. It is what I do when I need some space and time for myself. When I am feeling low, I shut the curtains, make myself a pot of tea, snuggle up under a cosy blanket and watch something that brings me joy.
Write a letter.
Writing someone a letter (or even writing yourself a letter) is a very intentional act of care and thought. It is just a great way to slow down and feel great!
Meditate.
Meditation is a completely free self care activity. I prefer guided meditations and I use the completely FREE app Insight Timer. This has has countless meditations and talks of different lengths and for every possible mood you can think of.
Plan a holiday or trip.
Pinterest is one of my favourite tools to plan travel. It is filled with ideas of places to visit, foods to eat and amazing views! Get your travel inspiration flowing and plan a trip.
Make a vision board.
Vision boards don't need to cost anything. You don't even need to make a physical one. You can make a digital one! Focus on the future and celebrate how far you have come and how far you will go. Check out my Vision Board E-Book here!
Why not practise some self care today?
I would love to hear what you do to take care of yourself. Share your experiences and ideas in the comments below.
Do you love the blog? Help support us on Ko-Fi! Buy us a coffee <3