Disclosure: This post or page may contain some affiliate links, meaning if you click on a link and make a purchase from an affiliate site, I make a small percentage of commission from that purchase, at no cost to you. Please read my Disclaimers for more information.
AD – This is a sponsored post but everything is my own opinion.
I want to share 3 digital side hustles which can boost your income. Earning some extra money is something a lot of us can relate to. I started my side hustling way back when, and I was just looking to boost my savings, pay some debt and generally feel a little more financially secure. It became something much more than that when I realised just how much you can from the comfort of your sofa with your laptop! Whether you want to earn some extra cash, diversify your income streams, or boost your savings, a digital side hustle is for you.
1 in 3 Americans already have a side hustle, and according to a Zapier survey another 61.1 million plan to start one in 2021. In the UK, at least 25% claim to already work on a side hustle. WOW. Those are some serious statistics. And it shows just how many opportunities there are out there to increase your cashflow without needing to go anywhere. Are you ready?!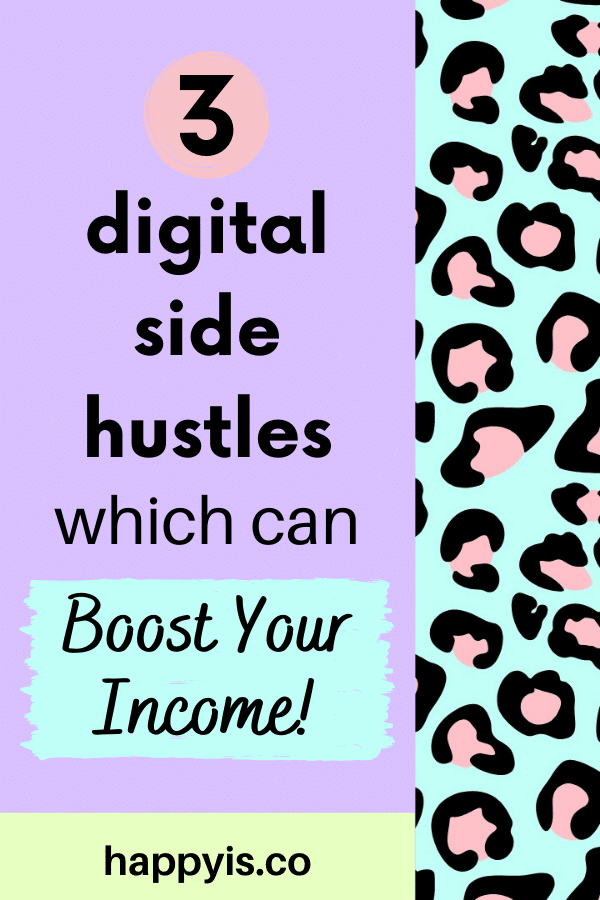 Here are 3 digital side hustles which can boost your income:
Transcription
Transcription is one of the easiest and most accessible digital side hustles out there. You can get started quickly and easily without needing specific skills and equipment. Being a good listener, and having excellent attention to detail (and a good pair of headphones) are all you need.
Transcribing involves typing audio files provided to you by a transcription company, who also give you bespoke software to use. This was one of the first side hustles I started and it was incredibly lucrative. I earned a minimum of $300 every month working in-between clients and during my spare time when I started transcribing.
Design & Sell Printables
Printables are one of the most popular side hustles ever! The earning potential is incredible. With some initial design effort, you can quickly start making $500+ each month. And best of all, it's passive income! You don't need to be an experienced creative designer. You can learn how to make popular and beautiful printables easily. PLUS, there are tools and bundles to support you like the fonts here.
Popular printables are planners, colouring pages, quotes, checklists, meal plans, self-care challenges, anything holidays-related and more! Etsy is an amazing platform to sell on as they make it so easy to create your store and market your printables. This is an incredible digital side hustle to start exploring how to earn a passive income online.
Website & User Testing
One of the best digital side hustles which can boost your income that I have ever came across is website and user testing. It pays well, there is a LOT of it, and it is usually interesting. Brands, companies and even bloggers seek feedback from website users that fit their target market. Usually you speak your thoughts out loud as you explore a site, discussing the layout, design and how user friendly it is. Simple!
The best way to boost your income with the digital side hustle is to sign up to as many user testing websites as possible. This increases the chances of having a relatively consistent flow of work opportunities. Tests usually takes between 5 minutes to 25 minutes, but some are longer (and pay better!). Average tests The average payment for an online website test is $10, but some sites pay up to $140 per hour! It's possible to earn £500/$600 monthly from this side hustle.
Do you think you might try some digital side hustles which can boost your income?
Being able to earn a bit of extra cash on the internet, and usually from my bed, is amazing! I absolutely love the freedom is has brought to my life over the years. Whether you want to pay off some debt, increase those savings or book that holiday you have always wanted, one of these digital side hustles which can boost your income is a great place to start. Which one will you try first?
If you are interested in learning more about earning an income online, check out these posts: