Disclosure: This post or page may contain some affiliate links, meaning if you click on a link and make a purchase from an affiliate site, I make a small percentage of commission from that purchase, at no cost to you. Please read my Disclaimers for more information.
Journaling has made a big comeback recently with the push towards gratitude journaling and mindfulness practices. It is a brilliant practice and can reduce stress and anxiety, as well as helping you to clear your mind and find clarity. BUT, it comes with a lot of pressure that is most unhelpful. This isn't something to be compared. It is a unique and personal practice for your own wellbeing. Or it might be messy. It could be neat and organised. Journaling is a great way to self reflect and bring incredible insights, but sometimes it is difficult to get started or sometimes we hit a mental block. That is why I have decided to share 30 journal prompts for self-reflection. These journal prompts will be there as a support to you when you need a little push to start or keep writing and digging deeper.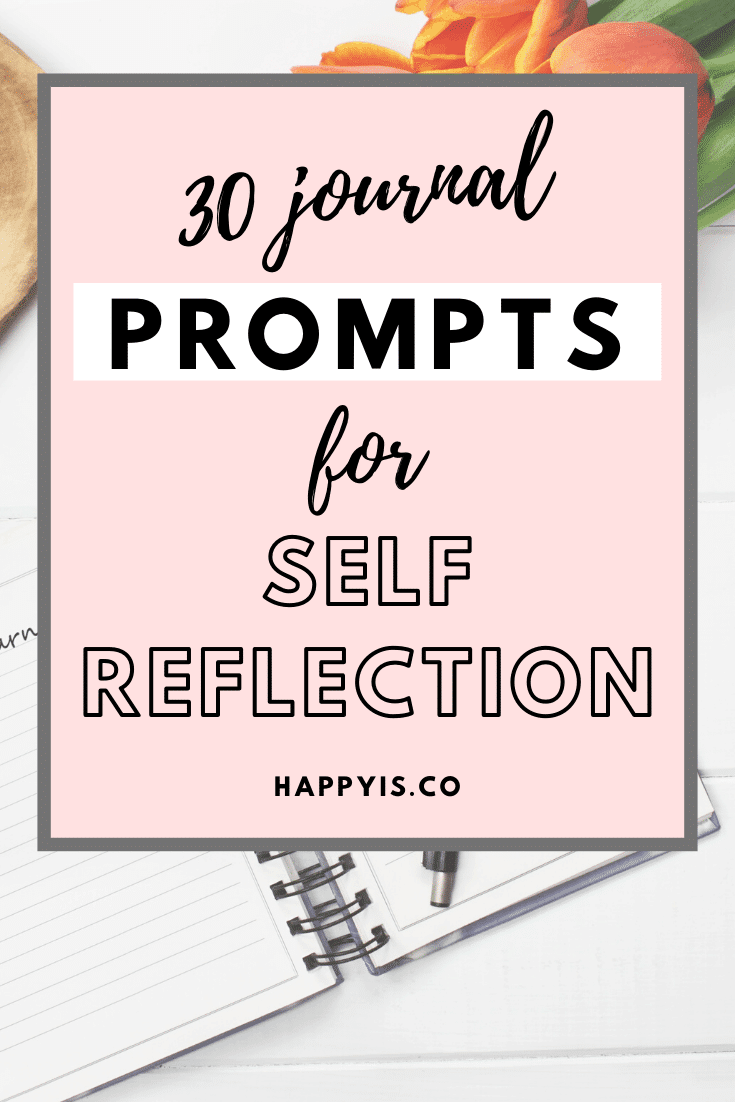 Related posts:
What do I need to start journaling?
Journaling doesn't need to be complicated but it can be a fun and therapeutic way to release some of your inner creative. I use a nice notebook or a guided journal (sometimes both), as well as coloured pens, pencils, washi tape, post-its, stickers and highlighters. Thing is, I absolutely adore stationery so it is a way for me to satisfy my stationery bug.
Space matters so I always journal in a comfortable and cosy place. A place where I feel secure and content. This tends to be a coffee shop, my desk or my bed. Sometimes I will journal on the train but that is rare. When it's a sunny day then I will journal outside. Wherever I am, I need to have a cuppa in a nice mug. These are just my rituals. Yours will be different, but whatever they are, they should inspire you and enable you to bring out your deep authentic self.
Here are some of my recommended supplies for journaling:
30 journal prompts for self-reflection
I feel incredible when…
My most cherished memory is…
The one thing I couldn't live without is…
Today I need to get these things off my chest:
I am thankful for…
I feel most inspired when…
The main source(s) of my frustrations is/are…
I have neglected these personal needs:
This week Icommit to taking better care of myself in the following ways:
I feel at peace when…
The happiest moment of my life has been…
I relax when…
I feel content when…
If I was more present in my day, it would…
To simplify my life, I will…
My three biggest goals are…
I am afraid of…
In 5 years, I will…
Right now, I need to hear…
Living authentically means…
I feel that my biggest weakness is…
My greatest strength is…
My favourite way to spend a day is to…
Love means…
The one thing that always makes me laugh no matter what is…
I want to do this less often:
I would be doing this if money was no object:
The boundaries I need to start putting in place are:
How I would describe myself to a stranger is…
This is what makes me unique:
Enjoy the journal prompts for self-reflection and I hope they support your writing and internal discovery.
Do you love the blog? Help support us on Ko-Fi! Buy us a coffee <3