Disclosure: This post or page may contain some affiliate links, meaning if you click on a link and make a purchase from an affiliate site, I make a small percentage of commission from that purchase, at no cost to you. Please read my Disclaimers for more information.
Does it ever feel like there just aren't enough hours in the day? Time goes by so fast and suddenly it's dinner time and the to-do list hasn't had a dent made in it. We have so many things competing for our time these days – work, home, family, relationships, sleep, shopping, cooking, eating, exercise, commuting… the list goes on and on. Learning how to manage our time better can help, but there is something that can make this even more powerful. Understanding how to be intentional with your time.
Our time is so often in short supply, yet it is one of our most important possessions. Focusing on the things that matter most to us or that we really want to be doing can be challenging because we have bills to pay, houses to clean, dogs to walk, and an endless list of "musts" that eat away at more and more of our precious time.
The idea of stopping our usual busy routines to become more intentional can be uncomfortable. But it is so worth it. Here are my suggestions on how to be intentional with your time. I have answered a few questions about intentional living beforehand, just to help take away some of the mystery.
Related posts: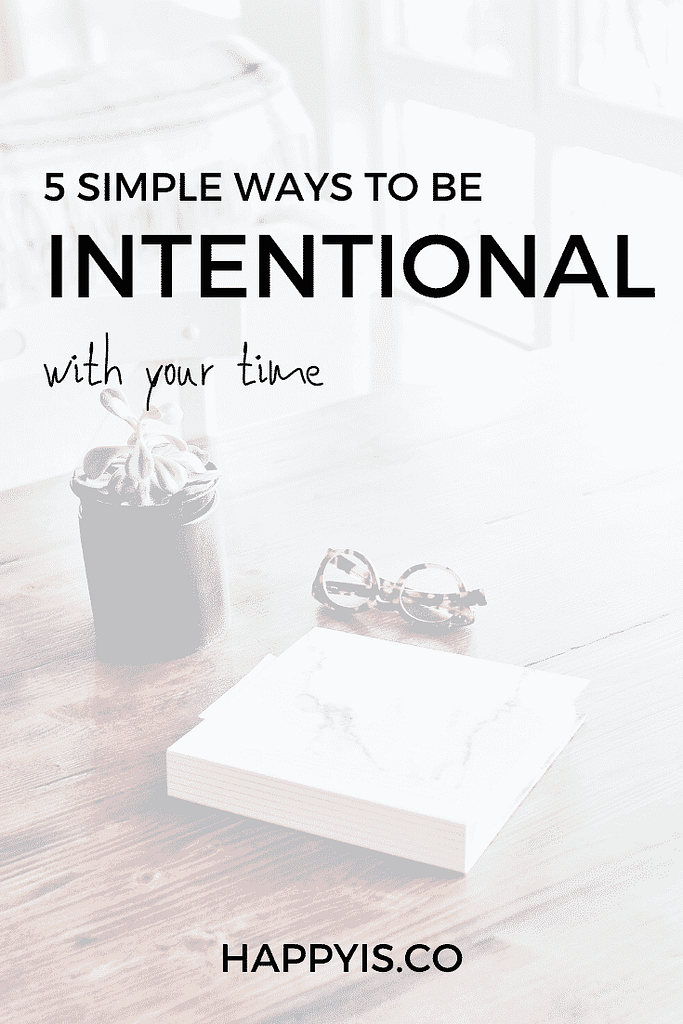 What does intentional mean?
Intentional means done on purpose, deliberate, intended and conscious.
Being intentional with your time means aiming to do everything consciously and on purpose.
Of course nobody is perfect, but striving to live with intention each day means we are allowing only that which serves us and brings us contentment into our lives.
Why do you need to be intentional with your time?
To be intentional with your time means being mindful of each and every task, each and every day. It is more than a one-off. It is a way of being, or at least striving for a way of being.
We live in a rush. Mindfulness and intentional living can stop that rush from sweeping us up into its grip. It gives us back some choice and control over our daily actions and activities.
When we are able to create space for ourselves, we are better placed to set boundaries and stick to them. Living intentionally allows us to connect or reconnect with ourselves and our families, to understand our needs and to decide how we can best meet those needs.
It is the road to freedom.
Will I get less done in my day?
I'm not going to lie. You might. Especially if you are used to working all day, doing all sorts, and not having a break.
But the point of intentionality is not to make you do less. It is to help bring your focus onto what you are doing, so you can better choose what serves you and what doesn't.
It can highlight areas of your life that can be made more efficient, and indeed things that can be removed. Through living intentionally you will be able to streamline your to-do list, and shift your understanding of productivity to a more positive perspective.
Is it possible to be intentional with your time at work and at home?
You absolutely can be intentional with time at home and at work. At home or in your own business, you are much more in control. You can design your day in a way that works for you and suits you best. Work can just be a little more challenging to implement.
At work we often have little control over designated tasks, workload and deadlines. But, did you know that in an 8-hour workday, we only achieve about 3 hours of actual work. That is because workplaces are not conducive to actual productivity. Productivity is seen as presenteeism. But sitting at our desks, or standing at our tills staring into space and counting down the minutes until the next tea break, are not making your workplace any more money (which is what they ultimately exist for).
To be intentional at work will require you to speak with your manager about your ideas and plans. I suggest pitching it to them with a connection to improving your results, but don't set yourself unachievable goals. Why not suggest that you only check and respond to emails at intervals during the day instead of all day? That is a great way to bring focus back to your day, and your manager might even get on board as well.
Being intentional with your time is a way of living, and once you start to introduce it and see the benefits, I guarantee you will want to expand its reach and make your lifestyle even more intentional.
Will being intentional with my time really make a difference?
It will impact you and your life in so many ways. Being intentional with your time is about you aligning your lifestyle to your values.
Living in line with our personal values and principles means we are living authentically. There is nothing more stressful than having to pretend to be something we aren't.
When we are focusing on intentionality in our daily lives, we decide to only spend time on that which brings us joy and contentment, that which matters to us and so we can truly live.
Plus you will be spending time doing things you actually enjoy or decide that you need to do for yourself. Having that sense of control over our lives can ease stress and anxiety immensely. This is why I think it is important to be intentional with your time.
My Top 5 Ways To Be Intentional With Your Time
1. Create space in your calendar and schedule.
You do not have to say yes to every invite or opportunity that comes along. You can and should say no when you aren't interested or when you have too much in your schedule.
Learning to refuse invitations and say no to commitments can be very difficult, particular for people pleasers but you can do it.
Being intentional with your time means learning to say no confidently and without guilt. A good first step to try if these feels completely unnatural is to wait for 24 hours before replying to an invite. This gives you some space and distance and might even allow you to get up the courage to politely decline. If not, you have at least created some space for yourself.
Your calendar should not be so full that you have no space for yourself or space to be. This is a great way to be intentional with your time.
2. Choose what matters.
Intentionality means prioritising what you do each day in line with your values. It is up to you to choose what matters to you, what you need to do and what you want to do.
If you haven't already, spend some time working out your own values to keep you aligned and focused.
It is so much easier to schedule your day when you can say that something either is important to you or it isn't.
3. Get into your own flow.
Your intentional lifestyle will look completely different to mine. You are unique. Your family is unique. Your household is unique. How you live and your productivity should be unique to you.
If we spend our time trying to get into a flow provided to us by someone else, then we are never truly connected to ourselves. Of course we can get some great suggestions and inspiration from others, but ultimately our flow has to be determined by us. Sometimes through trial and error, sometimes by adopting and adapting other ideas. But it should feel individual to you.
Establishing your own flow allows you to shift when you need to. Maybe you wake up feeling tired, or unwell, or just don't fancy working from your home office. Being connected to yourself means you can change up what you do and how you respond to your feelings and emotions so you can meet your needs in the best way possible.
4. Eat the frog.
The things you don't want to do, but you actually need to do… they are the frogs. They need eaten, and it's best to get it over with. Like ripping off a band-aid, quick and painless is the aim. I suggest doing the things that are necessary but not enjoyable first thing in the AM or scheduling them into the time of day when you know you are most focused and productive.
If it's your job to eat a frog, it's best to do it First Thing in the Morning. And if it's your job to eat two frogs, it's best to eat the BIGGEST one first.

Unknown, often attributed to Mark Twain.
Intentionality is not about ignoring the things we don't enjoy, because that will only bring trouble and anxiety. It is about living connected to ourselves and meeting our needs in the best way possible.
5. Be accountable and intentional about your intentions.
Living intentionally and being intentional with your time means holding yourself accountable every day for the the choices and decisions you make. You will need focus every day to be mindful in how you are living.
It can help to plan a schedule, write down some goals and journal about your achievements at least once a week to keep you on track. (This is my absolute FAVOURITE journal for intentionality and wellbeing. It is AMAZING.)
And remember, everything you do should align with your values or have a very good reason for it needing to be done.
Welcome to the art of intentional living. Are you ready to be intentional with your time?
Are you going to give it a try? Do you have any tips on how to be intentional with your time? Comment and let me know.
Bring financially intentional has enabled me to pay off significant debt and eventually start my own business, check out these posts on how to make money on your own terms: