Disclosure: This post or page may contain some affiliate links, meaning if you click on a link and make a purchase from an affiliate site, I make a small percentage of commission from that purchase, at no cost to you. Please read my Disclaimers for more information.
A major element of my freedom lifestyle relates to financial security and abundance. This is something I have struggled with for years and have only recently started to focus on properly. Since I shifted my focus, I have smashed so many financial goals and I am on track to keep going! But simplicity, living with intention and taking better care of myself are also hugely important to me. That is where work from home online jobs come in. I decided to create a lifestyle that enabled me to take the best possible care of myself physically and mentally without having to sacrifice the financial goals I had set for myself.
This path has meant I have discovered some creative and exciting ways to earn an income, and I wanted to share these amazing opportunities with you. Whether you are seeking to quit your job to work from home, wanting to build up some savings or aiming to build-up a side income stream, these work from home online jobs are the perfect place to start.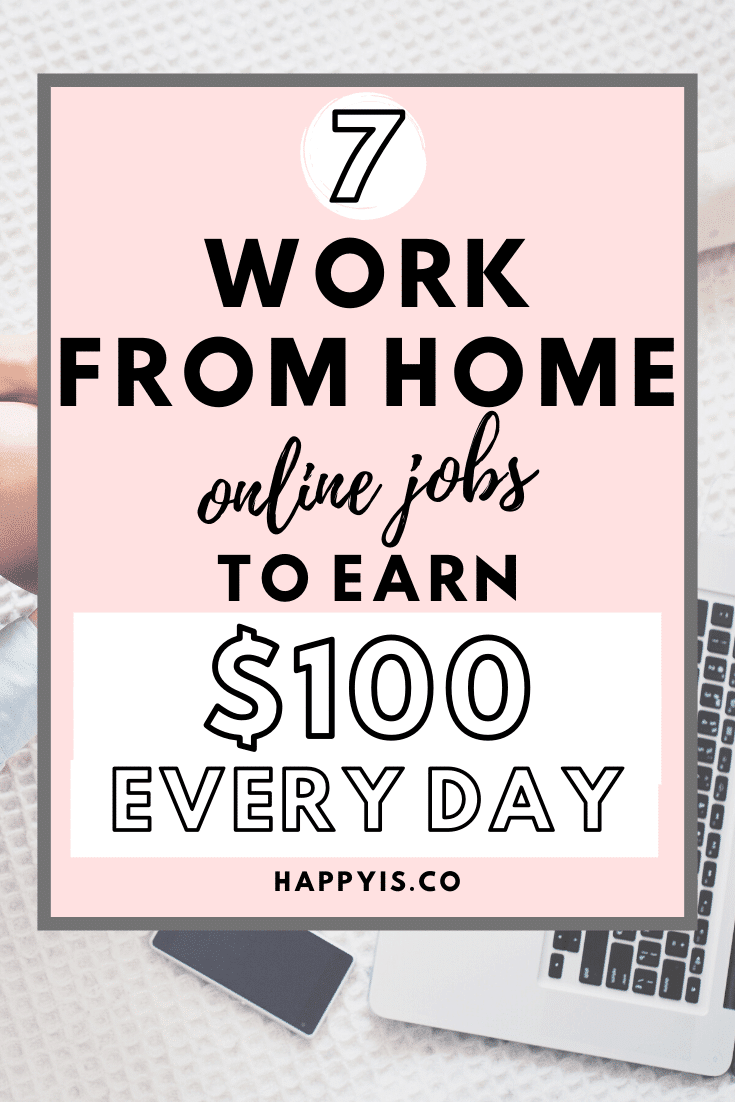 Related posts:
Here are the best online jobs that you can start straight away:
Scribie offer transcription and proofreading opportunities from home. You are an independent contractor so you don't have to commit to a certain number of hours or particular days. With Scribie you simply log in, choose a file and transcribe. It couldn't be simpler and you can get started almost immediately! I earn $300+ every month working part-time and I get paid via PayPal on request. Don't waste any time! Join Scribie today.
Branded Surveys is one of the highest paying and most rewarding survey sites and it is one of my favourite work from home online jobs. I log into this site every day and spend a few minutes answering quick surveys and the daily poll. Payout is via PayPal or gift card once you reach 1000 points equal to $10. I earn at least $30 from this site every month. Sign-up to Branded Surveys today and start making some extra cash!
Teaching English is one of the most lucrative work from home online jobs available and you can get started within a week with ITutorGroup. I teach part-time hours every week, and earn around £2000/$3000 every single month. ITutorGroup offers teaching opportunities 24/7 and they even provide the lesson materials! You just show up and teach. Are you ready to earn an amazing side income from home? Become a teacher with ITutorGroup today.
Slice The Pie pay you to review songs, fashion accessories and items, and commercials and adverts. These reviews are sent to designers and creators as feedback! Isn't that cool? I love Slice The Pie because of it's unique opportunity to review awesome creative work. Slice The Pie pay per review and payment is higher for better quality reviews. Payment is made via PayPal once you reach $10. Slice The Pie have review opportunities available every day. A great way to earn a side income during the day or when you have some spare time. Join Slice The Pie as a reviewer today!
Respondent needs you to participate in online research studies paying up to $140 per hour for between 20 and 90 minutes of work. Respondent.io is one of the highest paying work from home online jobs where you simply give your opinions and thoughts. What could be easier? You can sign up to be a respondent here.
Check out these other opportunities to get paid to test websites and apps!
Swagbucks is an amazing site to earn some extra income. I use this site daily to take surveys, watch videos, and do quick tasks to earn Swagbucks. These can be exchanged for PayPal cash or gift cards. I only spend a few minutes on this site each day and earn at least £40/$50 every single month. It is so easy and takes almost no effort! Why not spend a few minutes on your lunch break or commute to earn some Swagbucks? Join Swagbucks today and earn a 300 SB bonus when you earn 300 SB within your first 30 days! (And don't forget to install the Swagbutton for extra ways to earn!)
Blogging isn't a quick way to earn, but it is the income stream with the greatest opportunity and a little work pays off hugely! I have been blogging for a few years but I spent so much time avoiding investing in my blog and then wondering why I wasn't seeing the returns that I had read so much about from successful bloggers. I decided to make the jump and properly invest and establish my blog and now I earn a healthy side-income from something I PASSIONATELY LOVE and enjoy. Plus the opportunities to earn with a blog are almost limitless! Why wouldn't you take a chance on yourself? Get started with your very own blog today! I have created an easy step-by-step guide to walk you through creating your own blog.
Work from home online jobs can be a great source of income.
It takes a little bit of effort to work out which options are best for you. Each of these opportunities have the potential to earn $100 every day. Give it a try and find financial freedom!
Have you tried any of these work from home online jobs? Do you have any other great opportunities for work from home online jobs? I would love to hear your experiences.
Do you love the blog? Help support us on Ko-Fi! Buy us a coffee <3