Disclosure: This post or page may contain some affiliate links, meaning if you click on a link and make a purchase from an affiliate site, I make a small percentage of commission from that purchase, at no cost to you. Please read my Disclaimers for more information.
AD – This is a sponsored post but everything is my own opinion.
Art can be expensive! I mean, that's a fact. So I am here for all the easy DIY wall art ideas. Artists do incredible work, but when we are designing or updating our spaces on a budget, often their work is just financially out of reach. Sometimes there are rooms in our homes where we just can't justify the investment in expensive art… enter the home office. I spend a whole lot of time in my office at home. That's what comes from doing a PhD while running a small business. (Anyone else nap in their office or is that just me?!)
I absolutely adore freshly painted white walls in my office space, but I find it uninspiring without something to look at occasionally. That's why I am literally obsessed with DIY office art work! It's cost-effective, it's personal, plus it's an amazing way to express your creativity. Here's how to make your own printable wall art in 15 minutes, so you can fill the walls of your home office (or other rooms) with your own beautiful art prints.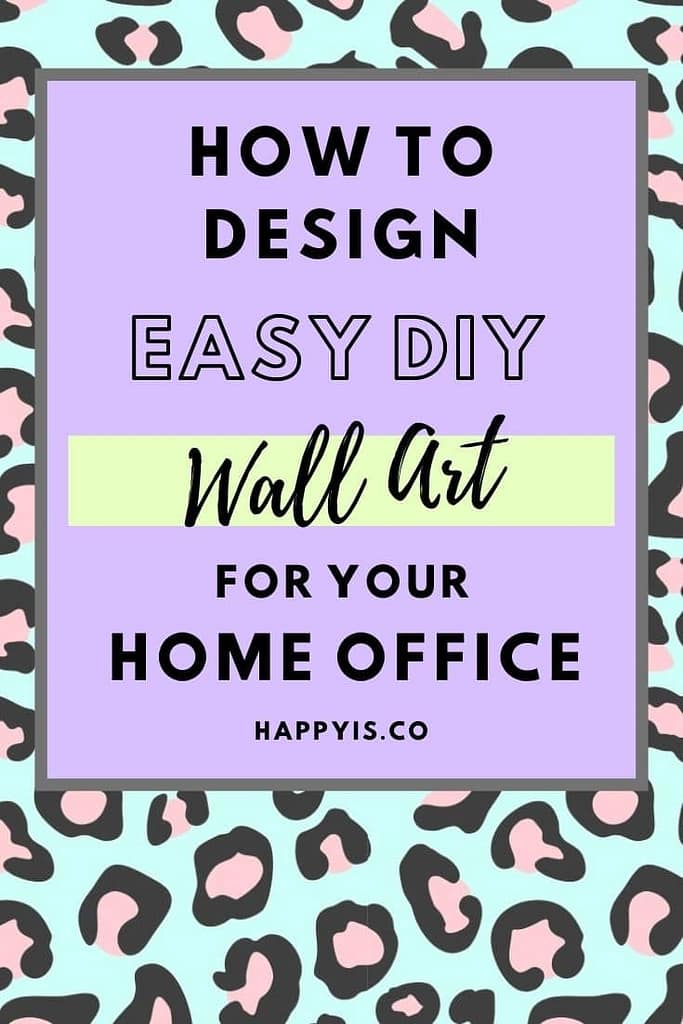 How To Design Your Own Wall Print
I'm sure you spend as much time on Pinterest as I do. I'm a huge fan! I am always pinning amazing quotes that would be just perfect to hang in a home office wall. This gave me an idea to try some art DIY projects to make some easy DIY wall art. The best part is, it's so inexpensive! Plus, if I make a mistake or I change my mind about my office style, it doesn't bother me as much as it would if I was trying to rehome some expensive art. Printable wall art is so popular now. With little costs and no necessary design qualifications, learn how to create your own wall print in a few easy steps.
You can make any type of printable wall art that you want. A few ideas that I love are an inspiring quote, an affirmation, a meaningful word, a poem, a line from a song, etc. There are literally endless possibilities! And what makes word wall out stand out? FANCY FONTS! These will take your wall prints to the next level. So your very first step is to find some fonts you like, purchase and download them. They are so inexpensive and you can use them again and again in art diy projects.
How To Make Your Own Art Prints
1. Make Your Own Printable Easy DIY Wall Art Using Canva
Canva.com is a free graphic design platform that's perfect for making posters, prints, postcards and more. Canva has so many templates for you to customise, or you can create a design entirely from scratch.
Canva is a tool that I recommend to everyone! If you have a blog, side-hustle, social media account then you should be using Canva. I use it everyday and I have a Pro account. (You can sign up to a free account only, but I recommend upgrading because you get access to more features including being able to upload external fonts)! Perfect for using the beautifully designed fonts you have downloaded. If you already have a Pro account, did you know that you can upload fonts?!
2. Choose A Size For Your DIY Wall Art
This should be quite simple, especially if your printer only works up to a size A4. Choose the perfect size easily in Canva to begin your design. You can also resize your designs easily with Canva Pro if you change your mind. I have a mixture of A4, A5 and smaller designs that I have created as DIY office all art. You can use any home printer when you have finished your design, but I absolutely love using my Canon PIXMA TS8350. It brings the colours up beautifully and is so easy to use.
3. Add Some Words Using Your Beautiful Fonts
Once you have uploaded your font choices to Canva, you can start your design by adding some words. Whatever you have chosen, be it a quote or some lyrics, or just an inspirations phrase, this is a great way to see what size you will need the font to be. Consider what colour you would like the words. Do you want there to be a background image? You can add this in easily! Do you want the background to be one colour? That's simple to do! Play around with you design, focusing on the amazing font and how best to make it stand out.
This is just as straightforward as you might think. You can use favorite fonts (typing phrases, song lyrics, punctuation, etc.) in whatever color you like to add a graphic element to your entire collection. I usually do this in Photoshop so I can easily make any size print I want.This is a great tip for when you have a gallery wall or small collection going but you feel like it's just missing one or two pieces. It can fill out the entire look of the wall without breaking the bank. These are also a great way to create a pretty "place holder" in case you plan to spring for a more expensive art piece later.
4. Finalise your easy DIY wall art design
It's as easy as that. Once you have designed your own printable wall art, you are ready to print and hang it up. Your home office (or wherever you chose to put it) will look amazing! Printable word wall art is a great way to fill out a wall without a lot of expense. Plus, think of all the fun you have had designing your very own easy DIY wall art.
BONUS: Make Money and Save Money With Your Easy DIY Wall Art!
If you want to take this to the next level, and use it to make some money then you could sell printables online! These are downloadable documents that customers purchase and print themselves. This means that once you have completed the design, all you need to do is upload it to Etsy or your own website. A perfect (almost) passive income stream.
Another way to earn some extra money with DIY art prints is to sell your designs, framed or unframed. This takes more effort as you will have to be concerned with finding quality frames, as well as packaging materials and postage. However, you can charge more for these items so it could be a great way to earn some cash on the side. You might even try to get stocked in some local stores which would make the income a little more passive.
A great way to save money with your easy DIY wall art is to give it as gifts to friends and family. This is perfect for weddings, new babies, new jobs and new homes! What could be more generous than creating a personalised gift? All you need is a nice frame!
Do you think you will create some easy DIY wall art projects?
Expressing my personality and creativity through art DIY projects feels incredible, and I hope it will for you too. It's so simple to create your own wall print that will fill wall space in your home office and around your home. I absolutely love finding ways to save money, and this is a fantastic way to decorate your home beautifully, for less. Plus, you could always turn it into a side-hustle if you really enjoy designing – bonus! What print will you create first?
If you are interested in learning more about earning an income online, check out these posts: