Disclosure: This post or page may contain some affiliate links, meaning if you click on a link and make a purchase from an affiliate site, I make a small percentage of commission from that purchase, at no cost to you. Please read my Disclaimers for more information.
Extra income – we could all use it, right? Maybe your salary just isn't quite enough to cover your bills. Maybe you have an unexpected cost that you need to pay quickly. Or maybe you just want to boost your savings account in case of a rainy day. Whatever your extra income goal is, I am here to tell you how I earn $300+ per month typing in my spare time.
I started transcribing as a side hustle to build up my savings when I started my own business. When I wasn't working with clients or directly on business projects, I would flip open my laptop and make a few extra dollars. I never expected that it would be so lucrative!
Each month I make at least $300 from ONE transcription site (that is the lowest amount I have made in a month where I spent almost no time at all on the site). Are you excited to make $300+ every single month from your laptop?! Then keep on reading!
Related posts: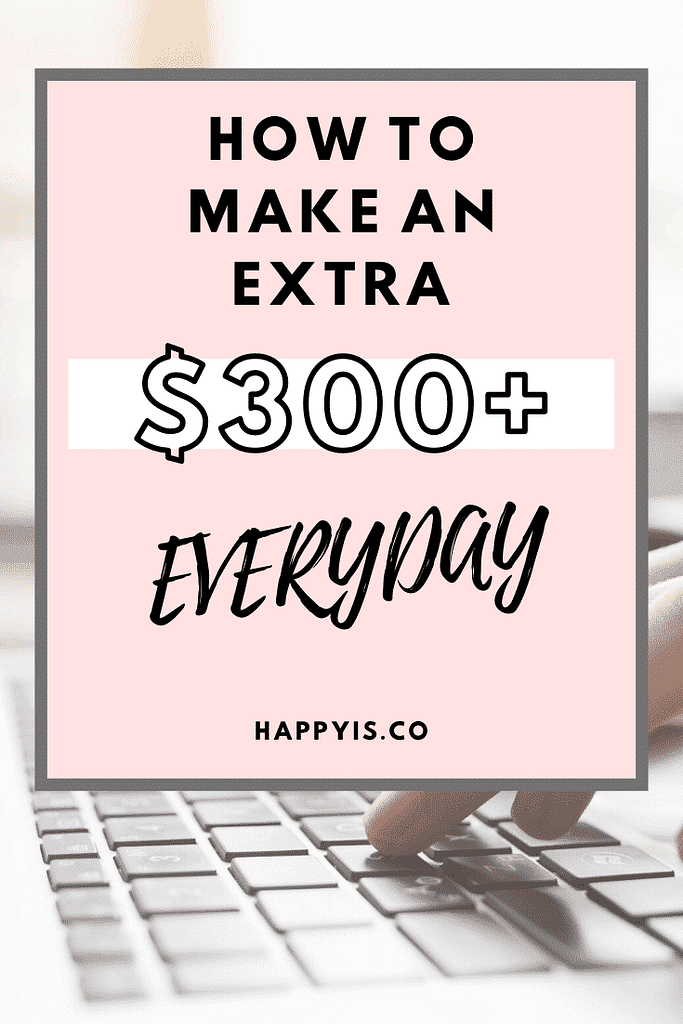 What is transcribing?
Transcribing is where you type out exactly what you listen to in an audio file. The file will be provided to you by a transcription company, and typed out on software that the same company provides.
It is a quick and easy way to earn extra income, and work from home.
Do I need to be a trained typist or secretary?
You definitely don't for the company I recommend – Scribie.
Other companies ask for minimum typing speeds, special equipment and even typing certifications. BUT with Scribie, they have created an incredible process that works alongside a bespoke software, which means that as a Scribie transcriptionist, your main task will be MAKING CORRECTIONS to an already transcribed file.
The core skill that Scribie desires is an ability to correct mistakes in these automatically produced transcription files.
What could be easier than that?
What skills do I need to transcribe for Scribie?
To be successful with Scribie, you need to be comfortable with your abilities in the following skills:
Good comprehension of English;
Ability to interpret conversations;
Ability to apply context and identify mistakes.
What equipment do I need?
You will need:
a laptop or desktop with keyboard and mouse;
latest version of Chrome, Firefox, or Safari web browser;
internet access;
For Scribie, you don't need anything fancy such as a foot pedal or a transcription package. The files are very short and they provide a free software that takes out a lot of the headache that other transcription sites come with.
Can I really earn $300+ per month typing?
Yes you really CAN earn $300+ per month typing. It really is that simple. There is nothing else to it. Once you have signed up, passed your initial (and very easy) trial file, then you are good to go. Hours of files are uploaded every day so there is never a shortage of work available either. $300+ is only the beginning of what you can earn from typing at home.
Where can I sign up to earn $300+ typing in my spare time?
How do I get paid?
Scribie send all of their payments via PayPal. You must have a Verified PayPal account to receive your payments. (Don't panic – this is really simple to set up if you don't have one. Check out guidance from PayPal here.)
You can request a payout at any time. There are no restrictions. Payments are made 8-10 hours after your payout request is made.
It's as easy as that!
How much can I earn?
You can earn a minimum of $300 per month. I earn over $500 most months! There are some Scribiers who are earning $1000+ just from working from their laptops!
Scribie truly is an incredible tool for financial freedom.
So what are you waiting for?! Get started TODAY and earn $300+ per month typing!
Transcription with Scribie is a fantastic way to earn a few extra pennies, pounds, dollars, cents every month. You can build up your savings account, or you can treat yo'self. Whatever your income goal is, Scribie is a great way to earn quickly and easily.