Disclosure: This post or page may contain some affiliate links, meaning if you click on a link and make a purchase from an affiliate site, I make a small percentage of commission from that purchase, at no cost to you. Please read my Disclaimers for more information.
Having a user-friendly website is a vital part of having a successful online business. It is so annoying to visit a website and have it look untrustworthy or find it awkward to navigate. A website should look attractive, be easy to use, have great branding and not do anything to annoy the user. I think we have all experienced that annoying website that we just click out of before we end up completely frustrated. But imagine if you could get paid to test websites to make sure they function perfectly for every single visitor?
Online website testing makes that entirely possible! It is one-of the best side-income streams that I have EVER encountered and it is interesting work. Brands and companies pay very well for objective feedback from their target market and general website users. The tests take between 5 and 25 minutes of your time, and all you need to do is explore the website whilst giving your opinion on the layout, design and user-friendliness. It couldn't be easier to make some cash from home! I have shared my favourite sites for online website testing in this post, so let's get started!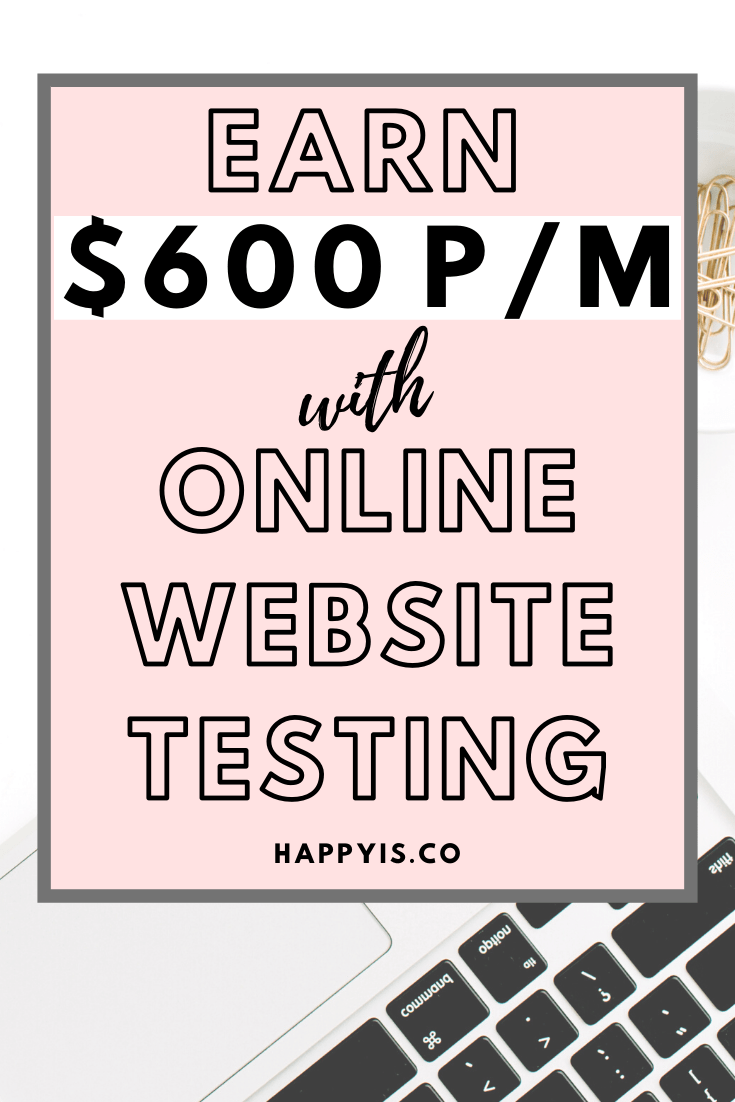 Related posts:
What is online website testing?
Online website testing is when a user tests and reviews a website or app on a computer, tablet or mobile phone. Usually your screen is recorded while you are providing feedback via your microphone. Occasionally your webcam will be recorded with your permission, and sometimes you can even get live tests (these are paid higher). Tests usually take between 5 and 25 minutes to complete. You will be provided with a set of tasks to complete during the test and will answer questions on your experiences. You may be asked to write short answers as well as providing your verbal feedback.
The average payment for an online website test is $10, but some sites pay up to $140 per hour! The most popular method of payment is through PayPal. If you haven't got a PayPal account, you can set one up in a few minutes here.
There are usually no required qualifications to start online website testing. Sometimes tests are seeking a particular demographic of user so there will usually be a short screening quiz before a test to determine if you are the correct fit. You will also usually have to download a screen recorder and/or app provided by the companies.
What do I need to get paid to test websites?
You will need:
a laptop or desktop with keyboard and mouse;
latest versions of Chrome, Firefox, or Safari web browsers;
internet access;
Sometimes tests are available for mobile phones and tablets so I recommend registering the devices you have available with each website. This will open up more opportunities for testing. Around one-third of the tests I take each month are on my mobile phone and tablet, so they can increase your earnings a lot!
Most of the online website tests you complete will require you to speak throughout to provide your opinions, insights and ideas so being able to speak basic English is important. You might also be asked to write a short report during or after the test.
How can I get paid to test websites from home?
To maximise the opportunities for earning from online website testing, the most important thing to do is to sign-up to as many sites as possible. Not every site has opportunities available all of the time, so more sites increases the chances for tests.
You can earn around £500/$600 every month through these sites.
This isn't a replacement for your full-time income but it is a sizeable side-income stream. An easy way to pay off debt or build up your savings. Even if you only did a few tests each month, you could still earn a hefty amount!
Here are my recommendations to get paid to test websites:
Top 20+ Online Website Testing Companies
Respondent offers highly paid research opportunities including (but not limited to) website tests. Through this site, I have been able to earn around $140 per hour on studies and tests that have ranged from between 20 to 90 minutes long. It is very easy to sign-up to become a Respondent, and they pay via PayPal within 7-10 business days after completion of the study. While Respondent isn't strictly just website tests, it provides too high of an earning opportunity for me to ignore its inclusion here. You can read my review about Respondent here.
Crowdville offers different missions where you can get paid to test websites, apps and software. Once you complete the instructions and end survey, you will be paid. The missions vary in pay and availability, but it is still my favourite site as the missions are so interesting and varied.
Test.io is a great way to get paid to test websites, apps and even games! For each bug you find, you can earn $50. You will also be paid for rating and reviewing the website and apps. Payment is made monthly via bank transfer, PayPal, Payoneer or Skrill.
Try My UI ask that you use the websites as you would in real-life, expressing your thoughts and opinions verbally. You will be asked to complete a short survey at the end of the test. Each test will usually last for around 20 minutes and you will be paid $10 per test. Payments are made every Friday via PayPal.
With PingPong you can get paid to test websites and apps via interview. These interviews take between 30 and 60 minutes and offer between €40-€200 per interview. Payments are made after seven days via PayPal or Transferwise. You require a webcam for this site.
TestBirds offers software testing and online website testing opportunities. The focus is on finding bugs in websites and software. TestBirds is a very engaging platform and it is also very highly paid! TestBirds pay in Euros via bank transfer or PayPal. A test can pay around €20 but if you find several bugs then you will earn more! Another one of my favorite ways to get paid to test websites and earn a decent side income.
Validately offer regular testing opportunities ranging from $5 to $100! All payments are processed via PayPal within 7 business days after test completion. These tests can be simple speaking tests or live moderated sessions. They are simple to complete and regular invites are sent via email! Keep an eye out to make sure not to miss a test.
UserFeel offer well paid online website testing opportunities from computer or mobile phone. Each test lasts between 10-20 minutes and the pay per test is $10. Tests are usually approved within one week and payment is sent via PayPal or Amazon gift card.
UserTesting is one of my favourite test websites. It has a really slick website and there are always numerous available tests every day. This site is one of my regular earners so I highly. (YAY!) I earn around $300 from this site every month. This is based on my being logged into the website 3-4 days per week for around 8 hours. I complete screenings as soon as they appear.
It is a very popular online website testing site. They pay $10 via PayPal for every test you complete. Tests usually take no longer than 20 minutes. You will receive your payment exactly 7 days after completing a test. It is paid automatically and there is no need to cash out. There are also live tests that are up to 60 minutes long that pay between $30 – $60 per test.
TIP: Keep this website open and whenever there is an available test, a ping will sound.
UserCrowd is another popular online website testing site. I love this site because the tests usually take only a few minutes. The tests usually ask questions about page design. UserCrowd increased their payments from $0.10 to $0.20 for every minute they expect the test to take. They care about their testers and ensuring quality results. I recommend switching on push notifications for these site so that you receive a notification whenever a test is available. I earn around $10 per month from this site. You are able to cash out to PayPal once you reach $10 and the payment takes no longer than a few working days. $120 per year is not bad for a few minutes work!
Enroll is a well-designed and slick site that makes it easy and fun to get paid to test websites. It is a little different as you don't need to use a webcam. Instead you complete tasks by comparing web pages or answering design questions. Enroll tests can be taken on computer, tablet and mobile devices and the tests are usually very quick. The pay per test varies from $0.10 to $2 based on how long the test takes. I usually only make around $2 per month from Enroll but I know I could make more based on the number of email invites I receive. This might not sound like much but it could cover the costs of annual travel insurance or even most of your blog hosting costs!
uTest is another one of my favourite ways to get paid to test websites. It can be a little overwhelming when you first begin because they offer advanced testing opportunities for the more technical minded, but don't worry! As soon as you understand the layout of the website and how the process works you will be flying. They have an amazing help desk too so you can always get answers and support if you are confused. uTest has incredible earning opportunities but it can be a little more time consuming.
uTest carry out tests on different software and hardware so when you are completing your profile it will ask for slightly more detailed information on each of your devices. To start testing follow these steps:
Complete online application form (will take no longer than 10 minutes)
Take an online practice test (also known as sandbox test and it can take up to 2 weeks to receive your invite to complete)
Apply for paid projects on the project board
uTest usually requires you to search for bugs for which you will receive $5 on average per bug you record. However, they also have other tests such as voice-recording which pay significantly more. You also have a personal rating that builds up with each tests and means you will receive more invites as it increases.
Userlytics provides testing opportunities for websites, apps, commercials and other digital projects. Like other tests you are required to speak your thoughts out loud and answer questions. The tests pay between $5 and $90. I have calculated my average earnings per test to be around $25. Once your tests are approved, you will be paid via PayPal every 15 days.
Intellizoom offers variable speaking and non-speaking tests.The pay ranges from $2 to $10, with $10 being the average payment. The tests usually take no longer than 20 minutes. Once your submitted tests are approved, you will receive payment no longer than 21 working days later via PayPal. I received about $10 per month from this website. Another worthwhile side income to boost my savings.
TestingTime is a little different in that you register and then you wait for test invites via email. There is no platform to log into to check for tests. I recommend setting up a separate email for this type of side income so that test invites don't get lost. This will help to maximise your chances of earning. TestingTime pays up to $60/£50 per hour for tests which is paid within 10 days. I enjoy TestingTime as it is usually a little bit different from the other companies. I receive about 5 invites per week and qualify for about 2 of these tests.
Neevo has online website testing opportunities but it also offers task-based jobs as well. This company is about shaping and developing AI and it provides a nice variation to the usual website tests. Payment varies depending on the task or job, but the average is $10-15 per hour. You will usually carry out tasks in 10-15 minutes segments until all of the available tasks are completed, or you choose to stop. Payment is made via PayPal and your account must be verified.
Teston is an exciting company and I really love their own website design. It always gives me confidence when an online website testing company has a slick website themselves. Teston offers the usual website tests but is slightly different in that it pays in Euros. You'll receive €10 for a 20 minute test, and €4 for a 5 minute test that is completed and uploaded. Teston also pay by PayPal and you will be paid on the 11th working day of the month following (e.g. If you took a test in March 2020, Teston would transfer your payment on April 15, 2020.)
Userbrain offers online website testing opportunities lasting between 5 and 15 minutes each. You will receive $3 for each test you complete. This is paid via PayPal once your balance is above $10. While not as highly-paid as some other sites, the volume of tests available and the short time to complete tests makes this another valuable way to get paid to test websites.
Intuit offer online website testing for their own products such as Mint, QuickBooks, TurboTax and ProConnect. These tests are usually via video or web conferencing and are between 30 minutes to 2 hours in length. Test opportunities are sent directly via email. Payment for the tests are usually $50 per 30 minutes, and are paid via Visa Rewards Card. A different style of testing opportunity but these tests are very interesting and very well paid.
Loop11 is another excellent company that offers opportunities to get paid to test websites. The application involves a short test to ensure you are suitable. Payment is often higher than average and there is a bonus scheme for high-quality tests. It is certainly worth signing up to receive test invites!
Checkealos offer website testing opportunities that last 15 minutes. The pay is €8 per completed test and this is paid via PayPal. The tests vary from apps to insurance websites. They emphasise the need to have a basic working knowledge of the internet and the willingness to provide spoken feedback. Test invites will be sent via email so check your email regularly to ensure you maximise your earning opportunities.
UberTesters are all about the apps. The reason I love UberTesters is that you can test exciting new mobile applications and games that are close to release! The tests are so enjoyable. All you need is a tablet or a mobile phone. One of my top sites for interesting tests!
Get paid to test websites today!
Online website testing is one of my favourite ways to make some side-income. It can be rather lucrative if you dedicate time to each site each month, and the tests are usually very interesting. I have even started using some new websites and services that I discovered through getting paid to test websites at home. How amazing is that?
Sign up to as many of these companies as you can, so you have all of the possible testing opportunities to earn some extra income!
Do you get paid to test websites and apps online? Have you any tips?
Do you love the blog? Help support us on Ko-Fi! Buy us a coffee <3