Disclosure: This post or page may contain some affiliate links, meaning if you click on a link and make a purchase from an affiliate site, I make a small percentage of commission from that purchase, at no cost to you. Please read my Disclaimers for more information.
Hi! Today I am going to show you how to start a blog quickly and simply in under 10 minutes. (It really is that easy! I did it and I was so surprised!) Even if you are not tech-savvy, you will have your very own WordPress blog with Bluehost up and running in a flash.
Blogging has changed my life. I have been able to quit my job and earn enough money for my partner to follow his dream of becoming a personal trainer. If you had told me a few years ago that I would be self-employed with a business and a successful blog, then I truly wouldn't have believed you. I thought that the people with blogs were magicians with degrees in technology and design. How wrong I was! Anyone can start a successful blog.
You can start your very own money-making blog today at a fantastically cheap rate that I have secured with Bluehost. You even get a free domain name included! Plus a free SSL security certificate (but only when you click through my link below!) This special price could go at any time so go quick!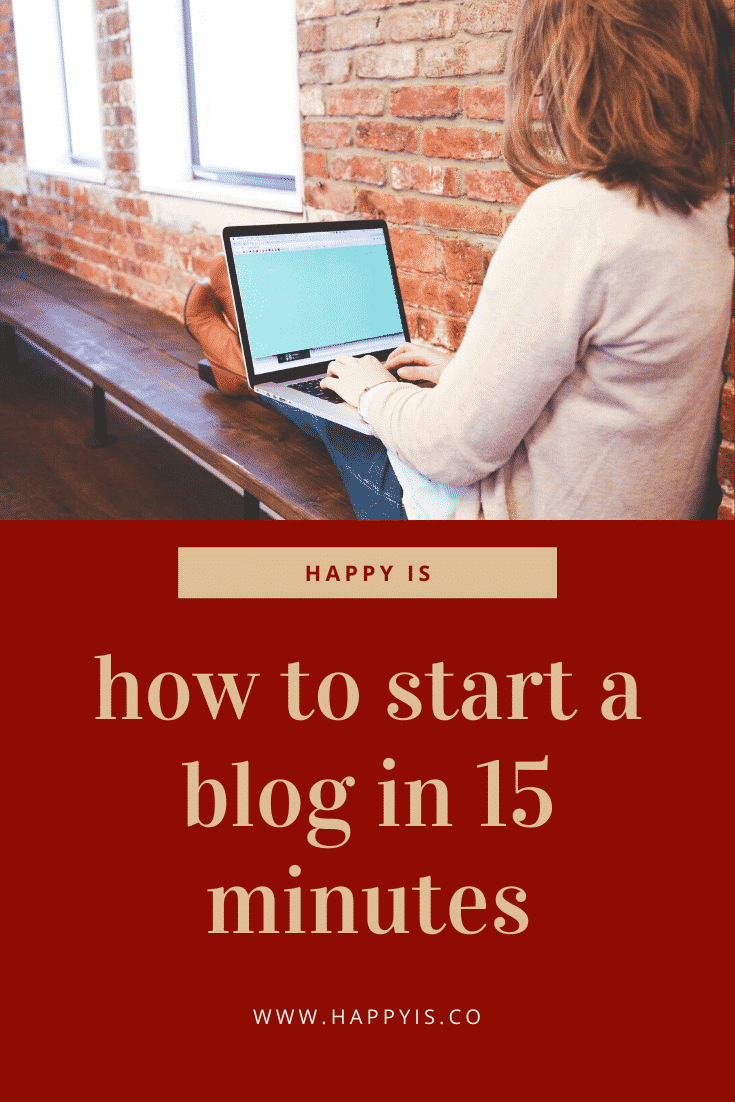 Here is what the step-by-step guide includes:
What hosting to use for your blog.
Which hosting NOT to use and why.
Naming your blog.
Choosing a host plan (and how to save even more money!)
Setting up your blog theme.
How to use your WordPress dashboard.
Publishing your very first blog post!
Why I started a WordPress blog with Bluehost
When I started to consider blogging as an option, I kept coming across recommendations for Bluehost. The more I read, the more I trusted and believed in the service they would provide me with. I couldn't believe just how cheap they were! I have had a fantastic experience with Bluehost and highly recommend them for your hosting needs.
Blogging has transformed my life. I am able to work from home, my schedule is flexible, and I can take breaks when I need to look after myself. My life has improved greatly in such a short space of time and I still can't quite believe what i have been able to achieve through my blog.
Making money with your blog is so simple, and anyone can do it. I made the costs of my hosting back in no time and it really is worth paying for hosting if you want to earn from your blog at all. I have no doubt that you will be able to make back your initial blogging investment quickly.
If you are looking for a way to make some extra money, to develop a passive income, to give yourself back time to do the things you really want, and to live life on your terms, then there is no better way than starting a blog. Here's how to get your WordPress blog set up quickly and easily with Bluehost.
Why you should choose Bluehost too!
Having a self-hosted blog is an absolute necessity if you are wanting to monetise your blog. Bluehost are the only hosting provider that I would recommend. They offer 24/7 support (including live chat with very knowledgeable operators), they are cheap but still over incredible quality and service, you can install WordPress in one click, and you don't need to be able to build a computer from scratch to be able to navigate hosting your own blog with them.
It should come as no surprise that Bluehost power over 2 million websites and blogs globally, and they have consistently been named in the top hosting companies. So why wouldn't you want to be a part of that club?
Starting your WordPress blog has never been easier or cheaper with Bluehost offering you hosting, a FREE domain name, and a FREE SSL security certificate for just £3.25/$3.95 per month – saving you a massive 50%!
I want to make sure that your blog makes you as much money as possible so highly recommend signing up for the 36 month plan to get the best value. It keeps your monthly expenses low and is a much better deal.
But, can't I just use a free blogging site?
I know it seems appealing to start with a free blogging site like Blogger or Blogspot because nothing is scarier than investing in ourselves right? But, I beg of you, DON'T DO THAT!
You don't own your blog if you use a free blogging site. It can all disappear in an instant, along with all your content and hard work. They don't even have to explain to you why they have removed your blog.
Whether you are aiming to make this blog a main source of income, a side hustle that generates enough to cover some holidays, or just a place where you get paid for your creative outlets, it is all your work and you deserve for it to be secure.
Just on that point about making money through your blog (I know, I know, you want to get started ASAP!)… if you want to make money from your blog, or turn it into a business, then you need to pay for hosting. Bluehost is incredibly good value and by hosting your blog with Bluehost, you are able to use affiliate links and advertise on your blog easily. Self-hosted WordPress blogs really are the pinnacle of professionalism in this industry, hence why I keep talking about Bluehost.
Plus, by starting your WordPress blog with Bluehost, you are able to design it and make it look exactly as you want. There are no restrictions. Plus, you can install Plugins on your site to make it function and do all sorts of wonderful things!
So here's some reasons to set up your WordPress blog with Bluehost
There are so many reasons to choose Bluehost for your blog:
Bluehost make it so simple to to start and run your WordPress blog. With my short, step-by-step tutorial below, you will have your blog set up in no time.
Bluehost provide 24/7 technical support, including live chat, and they are always happy to help and are incredibly knowledgable.
WordPress through Bluehost is completely free, and installed in only one-click!
Bluehost are incredibly good value, keeping your blog expenses low so you can earn the maximum amount from your blogging efforts.
You get a FREE domain name and FREE SSL security certificate.
Crucially, you can monetise your blog easily through advertisements, sponsored posts and affiliate links.
YOU decide how your blog looks and how it functions.
Self-hosting really is the way to make blogging work for you. Bluehost is really one of the most effective and efficient companies, and I am truly glad I chose them to host my own blog. (There has to be a good reason why they are working with over 2 million people, right?!)
So, let's get you started! Click on the button below to start, and then follow along with the steps in the tutorial.
How To Start Your WordPress Blog With Bluehost Easily
1. Decide on a domain name.
Your domain name is your blog address. When users want to come to your website, they will type your domain name into the web browser search bar to make their way to your site. For example, this website's domain name is "happyis.co".
Take a few minutes and think about what you want to call your blog (as if you haven't already thought about this…) and come up with a few variations, just in case your chosen domain name isn't available.
2. Sign up for Bluehost and choose your plan.
Click here to sign up for Bluehost, and click on the green "Get Started" button.
Next, choose your plan. I highly recommend choosing the Basic plan. That is what I use and it meets all of my blogging and business needs. Plus, you can easily upgrade if you need to, and Bluehost have incredible support to help you with anything you need or any questions you have. The basic plan also keeps your blogging costs low at only £3.25/$3.95 per month through my link (paid in full upfront) if you sign up for 36 months. Remember this gives you the best value, which means you keep more of your earnings from your blog.
3. Enter your chosen domain name for your WordPress blog with Bluehost.
This is where it's really starting to get exciting! The domain names that you thought about and decided on earlier, this is where you can see if they are available, and go ahead with your choice This is your very own blog address. How exciting!
Enter your domain name into the empty box under "Create a new domain" and choose the ending you want. I recommend something global like ".com" or ".co" so you don't limit your blog or your audience in future. Plus, it seems much more professional (important for future advertisements and sponsorships!)
3. Finalise your plan choice and enter your details.
The next page is where you enter your details to set up your account with Bluehost, and finalise the details of your chosen plan.
Under Package Information, select the account plan you wish to purchase. I have recommended the 36 month plan which costs £3.25/$3.95 per month, because it is the most cost effective plan available.
You can also choose to purchase a 12-month or 24-month plan from Bluehost and these both still provide incredibly good value, but why spend more money in the long-run?
Your domain name and SSL security certificate are included for free, so all that is left is to decide on what extras you would like. You absolutely do not need to select any of these (and I suggest you uncheck the boxes), but I would recommend choosing at least Domain Privacy Protection for only £0.99/$0.99 per month. This keeps your contact details and information secure.
4. Choose your password.
Next you will set your secure account password for your new blog and you are almost ready to go!
Create your password, then click go to login, and then enter your domain name and new password and click Log In.
5. Enter your blog name and blog tagline.
This is where you enter your blog name, which will probably be the same as your domain name for consistency. For me, my domain name is "happyis.co" and my blog name is "Happy Is".
You will also enter a tagline for your blog. Don't worry about this too much as you can change it later very easily and as many times as you want. My tagline is "A Simple Living Blog | Living A Free & Simple Life". Your tagline describes what your blog is about and let's visitors to your website know what to expect from your content.
Once you have entered your blog name and tagline, click on the grey button beside the "Do you want a blog?" question. This means that your website will be ready to go for all the exciting blogging you are about to start!
Click continue, and on the next screen, select what your website is for. Since you are aiming to start and grow a blog, I recommend choosing "share my ideas, photos, stories or videos". This means you will have appropriate plugins recommended for your blog to help the design and functionality. Click "Continue to theme selection".
6. Choose a theme.
Now you get to pick a theme which is what your blog will look like. Spend some time looking through the available themes and select the one that you like the most. You can change this later on if you change your mind.
7. Optimise your site for launch and write your first blog post!
HURRAY! That is your WordPress blog with Bluehost set up and ready to go. Now you can add an "about me" page to tell your readers who you are and why you decided to start your blog. You can set up your author profile so your name appears beside all of your articles. Most importantly, you are ready to write your first blog post!
8. Launch your WordPress blog with Bluehost!
There really is no need to wait before you put your blog out there. You don't need 10 posts or anything like that. Don't put it off. Click the launch button and then get posting!
You now own a WordPress blog. Now you can work on your design and writing amazing and quality blog posts! Get ready to change your life!
A few tips on using WordPress
The left-hand side is where you will find all the options you need to navigate and build your site. This is where you can add posts, pages, images, change themes and add plugins.
To add a new post, hover over "posts" and click "add new". Posts can also be organised into categories and tagged, but don't worry about that until you have written a few posts.
To upload an image, hover over "media" and click "add new". You can then add these images into pages and posts.
Appearance is where you can change your theme, add widgets and create your site navigation menus.
Plugins are add-ons that improve and increase the functionality of your website. You can do things like install your Instagram feed or add a contact form. There are so many to choose from so have a search and read the reviews for what you are looking for.
Happy blogging! If you have any questions, don't hesitate to reach out to me.
Do you love the blog? Help support us on Ko-Fi! Buy us a coffee <3