Disclosure: This post or page may contain some affiliate links, meaning if you click on a link and make a purchase from an affiliate site, I make a small percentage of commission from that purchase, at no cost to you. Please read my Disclaimers for more information.
I am a huge fan of loyalty and reward schemes. They are a great way to save some money and even get some extra treats for yourself. One loyalty scheme I use regularly is M&S Sparks. It is a very different scheme from some others that you may be used to like Nectar or Tesco Clubcard, but if you ever shop in Marks and Spencer then Sparks is for you! Here is my Marks and Spencer Sparks review. Read on to discover is the Marks and Spencer Sparks card worth having?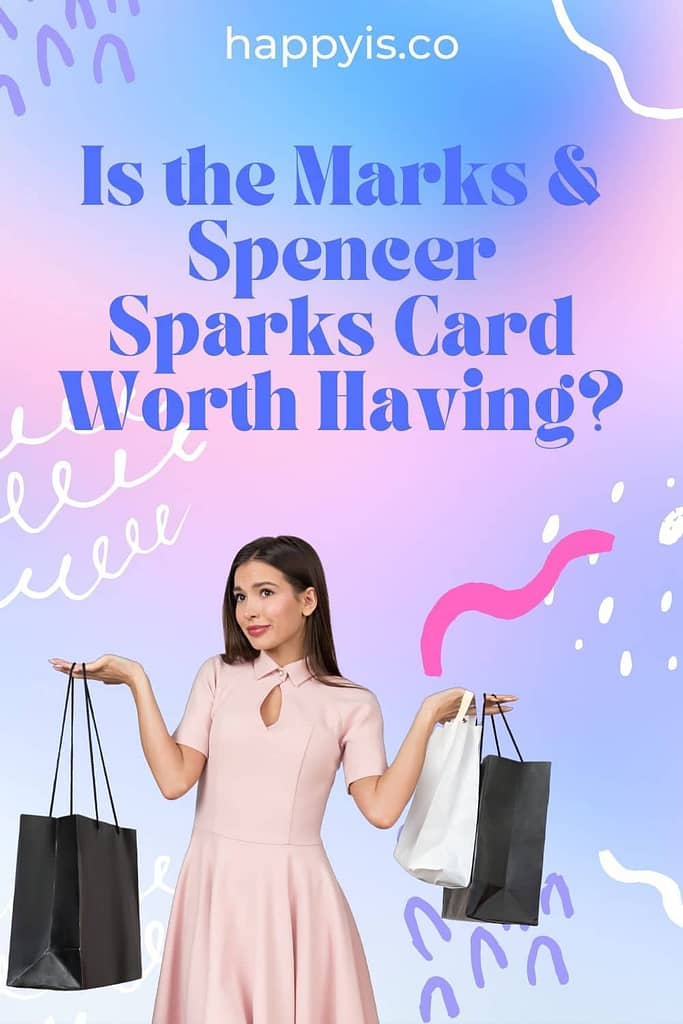 What is M&S Sparks?
The Marks and Spencer Sparks card is a free loyalty and reward scheme to say 'thanks' for shopping with M&S. It's filled with treats and rewards! You can use Sparks in M&S stores, online and via the M&S app (excluding international stores and BP garages). It's so simple to use.
The choice of name for the scheme is genius! M&S is often called Marks and Sparks, which is what we call it when we are heading for our Christmas shopping in particular, because it's just such a festive and sparkly environment. So how apt that they chose Sparks as the title. It really shows how they listen to customers and consider their brand. I appreciate that level of effort.
How does M&S Sparks work?
The Sparks motto is: Good things happen every time you shop.
So, Sparks is a reward scheme for customers who shop in M&S, but there are no points like other loyalty schemes. Instead, M&S gives you the chance to get treats, rewards, tailored offers and more!
What are the benefits of M&S Sparks card? What will I get with M&S Sparks?
Because there are no points some have questions if the Marks and Spencer Sparks card worth is high? I definitely think it is worth it.
Despite not accumulating points, the offers are usually very good! For example, at the time of writing this blog post I currently have four offers:
20% off women's pyjamas
20% off patterned towels
20% off patterned bedding
20% off women's socks
20% is a massive saving! And the lowest percentage off I have ever been offered is 15%. I think that is pretty generous.
This week I have also had three freebies through M&S Sparks! This is what I got:
Apothecary Sleep Scented Candle (Worth £7.50!)
A bag of Percy Pig sweets (Full size!)
Apothecary Calm Hand Cream (Worth £4.00!)
These freebies and treats really delighted me! And all within the same week – how amazing is that?! I don't get freebies or treats offered every week, but I have had other freebies such as a fresh pineapple. For me, that definitely makes the Marks and Spencer Sparks card worth it.
Another little perk is the possibility that you could get your shopping for free. Yes. That's right. FREE! Each month one lucky shopper has the chance to get their shopping free and you will find out when you get to the till or when you are paying online/via app. How exciting would that be?!
When you join Sparks, you get to choose a charity to support. Each time you shop, Marks and Spencer will make a donation to this charity. This costs you nothing, and is just another great element of the Sparks scheme. My chosen charity is The Black Curriculum which has received £7,076 since June 2020 from the Sparks scheme alone (at the time of writing this blog post). There are a number of charities being supported through Sparks including Great Ormond Street Hospital Children's Charity, Woodland Trust, Refugee Council, and RNLI.
How to get a M&S Sparks card?
You can join easily on the website or on the M&S app.
M&S describe Sparks as a 'digital first loyalty scheme' which I absolutely love, because it means I don't have to worry about forgetting my card or adding another fob to my keyring! (You can pick up a physical card in store if you prefer that.)
This is what really makes the Marks and Spencer Sparks card worth it for me. The absolute ease. In fact, with the M&S app you can now Shop & Scan in-store making it even easier to use your Sparks card!
Have I convinced you of the Marks and Spencer Sparks card worth? If so, you can download the app or join online, and get started straight away!
How to use M&S Sparks card? How do I check my M&S Sparks offers?
Just scan every time you shop in store, online or via the app. You will see your offers on the website or the app, and you just select the ones you wish to use. It's that simple!
Even if you have no available Sparks offers, make sure to still scan your Sparks card/app because the more you shop, the more likely you are to receive tailored rewards, treats and maybe even a surprise or two!
Is the Sparks card any good? Is the Marks and Spencer Sparks card worth it?
Definitely! It always amazes me when I read comments saying it isn't worth it, or that it isn't as good as other loyalty schemes. I rate it so highly! I like that it's different and the freebie are such a perk for me, plus I love being able to choose a charity for M&S to support. So my answer to the question, is the Marks and Spencer Sparks card worth it, is a resounding yes! Will you sign up? Are you already a Sparks member? What do you think of M&S Sparks card?
If you are interested in learning more about earning an income online, check out these posts: